New Patient Experience - Your First Visit with Us!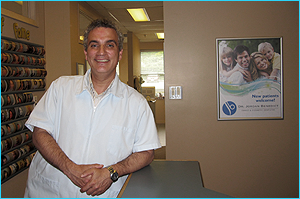 Your first visit with our office as a New Patient gives us the opportunity to get to know you, what your concerns are in regards to your oral health, what you ideally want from your experience with us and how we can work together to achieve your oral health goals. We will collect information through a physical examination of your head, neck, teeth, gums and jaw joint.
What to expect on your first visit with us:
A review of your medical and dental history
Necessary x-rays may be obtained
An oral cancer screening
A TMJ (jaw joint) assessment to check for any chewing problems, pains in joints and jaw area and mouth opening abilities.
A periodontal and gingival assessment
Conditions of the teeth will be charted in detail by examining each tooth individually.
Intra-oral and extra-oral photographs may be taken.
A discussion of any important findings with you and together work out a treatment plan which will incorporate your immediate, intermediate and long-term dental needs.

Click on the button to fill out our New Patient Form to save you some time at your first appointment. Please bring this to the office with you on the day of the appointment.
We always welcome new patients to our Port Hope Dental office. Book an appointment with us today!