Request an Appointment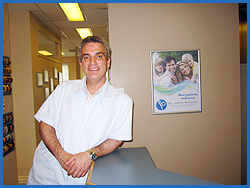 New Patients Are Always Welcome!
Port Hope Dental is conveniently located in the Port Hope Medical Centre at 249 Ontario Street. We are just south of the Ontario Street/County Road 28 South exit of Highway 401.
You can use the form below to request an appointment. To save time and make your first visit more comfortable, please print and complete our New Patient Form and bring it in with you.
If your request is an emergency or requires immediate attention, please contact our office directly at (905) 885-5303.
Port Hope Dental
Port Hope Medical Centre
249 Ontario Street, #105
Port Hope, ON L1A 3Y9
Phone: (905) 885-5303
Email: dentistry@porthopedental.com
Office Hours
Monday
8:30 AM - 5:00 PM
Tuesday
8:30 AM - 5:00 PM
Wednesday
8:30 AM - 5:00 PM
Thursday
8:30 AM - 5:00 PM
Friday
8:30 AM - 3:00 PM
*Extended hours available upon request

Please let us know if your preferred method of communication is calls, texts, or email for appointment reminders and more!
If you are unable to keep your appointment, please notify us two (2) business days in advance.