Port Hope Holiday Potluck
To wrap up 2017, we celebrated with our annual holiday potluck on December 7th. All the food was delicious (we have some great chefs in the office) but the company and conversation was even better! Cheers to 2017 and we look forward to 2018!
Click here to see more photos of our holiday feast!
Port Hope Food Drive a Success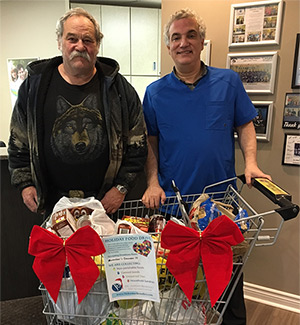 Dr. Benedict and his team celebrated the end of another successful food drive this year. Between November 1 and December 14th, we asked for food and toy donations and the response was amazing! William (above) from Northumberland Fare Share Food Bank was grateful for the donations. We'd like to thank Steve from Metro for donating $50! Click here to see a picture.
Thank you to everyone who gave generously for helping to brighten local families' holidays.